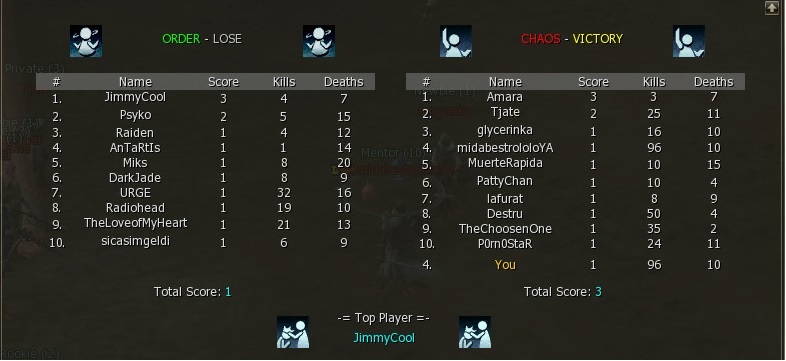 Content count

39

Joined

Last visited
Okay, do not lock it, just make it buy-able with value, for example gold drake - reward by winning the event.(non-tradeable) Something that prevents S grade at the first, 2nd or 3rd day of the server. Same for the epics, and make them buy-able for adena + materials.

Hello folks Im coming as newbie pls advice me what class should I play ?

yes, its time to wake up, free pvp point.

This stupid thing "the progressive game play " broke the server once again! I really appreciate your work, Emerald.. BUT that stupid thing with the " progressive game play and A/S/S80 so on grades " to become free was absolutely fucking bullshit. All good players know that this is a bullshit, remove it once and forever. If you are going to open new server in the nearest future or later Interlude especially, PM me in forums ill give you some really good ideas about the game play/progress/balance/olympiad, everything Don't wantbe insolent, but I am one of the most experienced players in Interlude.

"annoying orange " talking, i really do not expect smth new than just jelly posts in forums from you, that's why you will stay MEDIOCRE TRASH 4ever!

No one expected more from you, free pvp point

free pvp points like chakss talking...hahaha

As usual my PVP partywas the best one possible! No1 was able to compete with us, sorry TOO stronK! Getting fun while whole order faction suffer cause of Us, Sorry ! midabestrololoYA- Dominator Satanic - Shillien Saint/Cardinal RisanX - Phoenix Knight P0rn0StaR - Trickster Destru - Ghost Sentinel

I'm the biggest troll, no way !?!!?!??!!?!?!?!?!?

One day Iwas a Mage, so my signature says everything!